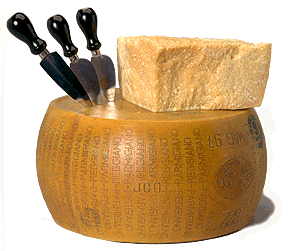 The traditional marking with the inscription in full "Parmigiano - Reggiano" is impressed along the side of the whole cheese and enables the identification even on small pieces.
One of the characteristics of Parmigiano-Reggiano is a "straw" colored paste, which indicates that it comes from milk produced by animals nourished by fresh forage.
Another typical characteristic of Parmigiano-Reggiano is the "flaky" structure; the paste therefore, in the mature product, comes off in subtle flakes in keeping with an arrangement of converging rays toward the form's center.